Baked fish with rosemary and garlic
Baked fish will make a great dish for festive or a quiet family dinner. Fragrant herbs and spices make wonderful combination with tender fish meat.
Ingredients:
Medium size white fish or fillet. One per serving or as many as you wish. I would recommend to use tilapia.
1-2 cloves of garlic per fish
Fresh rosemary branches,  one per fish
Fragrant herbs and spices mix for fish  which are basil, tarragon, nutmeg, bay leaf, dill, mint, allspice, paprika
Vegetables. I used potatoes, carrots, onions. You can also use some squash or sweet potatoes
Salt by taste
Preheat oven to 350°F.
1. First, boil washed vegetables until they half ready.
2. Peel the garlic and cut it into thin slices, rinse the  rosemary branches and pat dry. Put slices of garlic and one rosemary sprig into the fish.
3. Make small cuts on the fish on both sides and sprinkle with salt
4. Peel the vegetables and onion and cut into wedges. Divide extra garlic into cloves, but do not peel them. Grease baking dish with olive oil, put the fish on it and add vegetables around
5. Lightly sprinkle the fish and vegetables with olive oil and season with the mix of herbs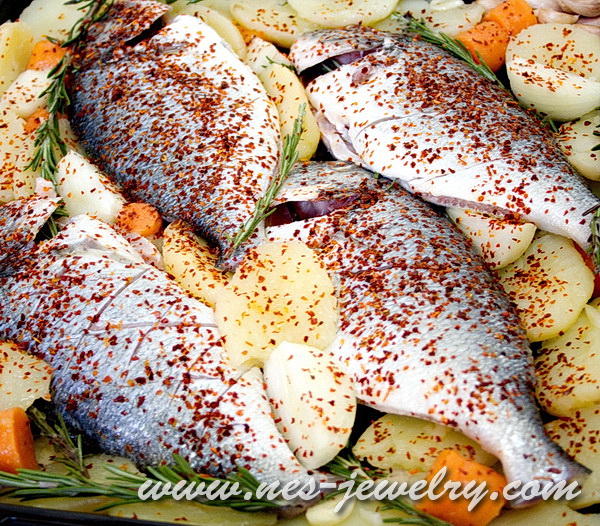 6. Bake it in an oven for 30-40 minutes
7. Optional. Sprinkle the fish with lemon juice for taste. Serve immediately!
Bon appetite!