Diet meal for busy girl
People, who engaged in interesting and challenging work in the home, often do not want to be distracted by cooking.
I prefer a fast, healthy and tasty food! For example, this wonderful salad.
All components of this salad is very tasty and full of nutrients:
Baby leaf vegetables are an excellent source of vitamin K, vitamin A, vitamin C, vitamin B2, vitamin E and vitamin B6. It is a very good source of dietary fiber, copper, protein, phosphorous, zinc, manganese, folate, magnesium, iron, calcium and potassium.  
Green beans (French beans) are rich by dietary fiber, protein, vitamins A, C, D, E, K, B6, B12, folate and other. Moreover, this delicious vegetable contains calcium, manganese, magnesium, potassium and copper.
One large red bell pepper contains 209 mg of vitamin C! And also vitamins A, D, E, K, B1, B2, B3, B6, B12, folate and minerals.
Sunflower and soybean sprouts contain large amount of all vitamins B and dietary fibers. And they are so tasty!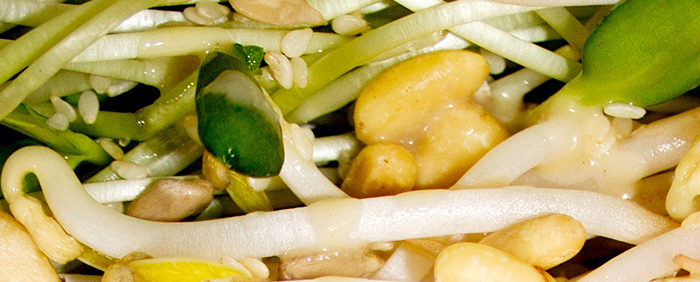 Mushrooms (champignon or portabella) are source of proteins, riboflavin and niacin, phosphorus, potassium, copper and selenium.
I also add delicious sesame and sunflower seeds and pine nuts to my salad (and sometimes I use almonds or pistachios); and season it with extra virgin olive oil and tahini, which is really rich by iron.
Bon appetit!